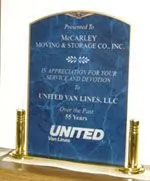 For over 60 years McCARLEY MOVING & STORAGE CO. has been your United
Agent in the Columbus area. McCarley's will be glad to service your military
and civilian needs in the Columbus area.
• Pre-move surveys and OA service within a 100-mile radius

• International moves

• Special Commodity and Electronic shipments

• Military - full service destination agent for United Van Lines and Mayflower
As the oldest United Van Lines agent in Columbus, we will be happy to service all
of your OA/DA needs.
Give us a call TODAY … (800) 345-5058. We look forward to hearing from you.
Our OA Coordinator, Vicky Bankston, is ready to assist you. Vicky has over 35 years experience in the moving industry.

Contact Vicky today for all of your OA needs. She can be reached at (800) 345-5058 or by
email
.